Harmony Balls
Beautiful Harmony Balls will bring calmness and harmony and style.
Harmony Balls has been worn for centuries by pregnant women in Balinese and Mayan cultures for the calming effect it can have on mother and the unborn baby in the womb. Ever since then, harmony balls evolved into a very popular piece of fashion jewellery which can be personalized into any color or style that will perfectly represent the wearer.
How To Use Harmony Balls
Harmony ball necklaces are pretty easy and trendy to use and wear. Not only that, you can personalize these harmony ball necklaces to whatever style, feel, our meaning you want it to be.
Basically, there are 2 parts to consider. The Harmony Ball, and the Necklace. Here is how they work together: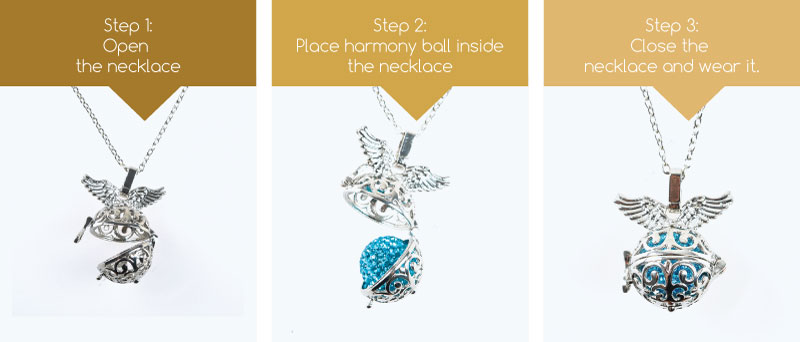 Our Products
We offer different styles of necklaces to suit the different fashion tastes of people all over the world. These necklaces have different feel and sentiments to it, whether its for fashion or for protection, these harmony ball necklaces can be always worn in style.
Check out these necklaces that we have
Necklaces
Balls
We also have different kinds of harmony balls for different occassions and feel for you to choose from.
1. Ringing Bell Balls
Originally, harmony balls were made to provide a sweet ringing sound. These ringing bells comes in various colors to choose from. Here are some of the colors:
2.  UV Glow In the Dark Balls
Glow in fashion with these UV glow in the dark Harmony Balls. These glow in the dark harmony balls make a fascinating night accessory.
3. Rhinestone Balls
For all the bling lovers and the posh women who always have the urge to shine and sparkle, we have the right balls for you. These harmony balls are covered with rhinestones – perfect for bedazzle lovers.
4. Natural Stones
Be one with the earth and carry nature with you. We also have a wide variety of natural stones as harmony balls. Here are some:
Merchandise Solutions
Our displays come in Counter Display Unit types. This way, the product can attract contact and interacting with customers as it should be. Our displays allow a fun mix and match feel to whoever is staring at it. Check out the various display styles that we have.
These Acrylic counter top display works best on retail shops and boutiques. They are easy to see and elegant looking. This display makes the harmony balls necklace the perfect counter top product which customers can browse, try, and play with. It gives a sense of connection and playful vibe to the people in the store.

JDSD-00127
JDSD-00126
JDSD-00125
Contains:

4 different necklaces
18 Ringing Harmony Balls on display
(18 different colors)
18 different sentiment Cards

Contains:

3 different necklaces
24  Glow In The Dark Harmony Balls
(8 different colors)

Contains:

4 different necklaces
36 Ringing Harmony Balls on display
(6 different Colors)
12 different sentiment Cards
These displays also come with a drawer so you can store harmony balls, necklaces and even cards inside for easy refilling.

We have also developed carton counter display units with adorable and catchy packaging. Perfect for catching your customer's attention. Not only that, these displays allow the customers to mix and match Harmony Necklaces with whichever Harmony Balls they like. The packaging and display is ideal for even chain stores. each part is neatly packed in a cute and fun way.
These are best for those impulse buyers. Whether the customer is waiting in line, or just passing by some counters.

(JDSD-00160 Essence)  This collection consists of different harmony balls for 12 different colors. These colors represent a different color personality meaning which makes it fun for shoppers to relate to and to choose from. The display can hold 12 different boxes of necklaces on the upper stairs and 12 different colors of the ringing harmony balls on the slot below.
The Display Contains:
36 boxes with necklace and harmony inside (These boxes have 12 different Color Personality Meanings)
12 different Ringing Bell Balls stacked on the bottom of the display

(JDSD-00161 Harmony Dazzles) This collection consiste of different harmony balls for different birth stone match (From January to December). They also come with extra rhinestone balls to choose from so it doesn't limit your customer to just a pair of harmony ball necklace.
The Display Contains:
36 boxes with necklace and harmony inside (These boxes have different Birth Stone meanings for every Birth Month)
12 different Rinestone Balls stacked on the bottom of the display